Hey there! We're so glad you're checking us out!
Digital Feis began in 2016 to give Irish dancers around the world a new way to progress. We talked to teachers who were the only Irish dance school in their area, or the only open platform school in their region. We talked to dancers who were frustrated that they didn't have more opportunities for feedback.
We've met (and have been) dancers suffering from anxiety, panic, and sensory issues, needing a less stressful way to advance. We don't want anyone to quit something they love because one part of it is overwhelming.
How could we fix this?
Digital Feis is an affordable and fun way to connect Irish dancers around the world, and provide more opportunities for them to achieve their goals.
We are an open platform community, which means our competitions are open to Irish dancers of any organizational affiliation, or none at all.
Here we'll talk about the values we've built our feis system on, the levels and ways dancers advance, dance rubrics, costuming requirements, dance speeds, recording your videos, and more. We'll try to hit all the important parts without overwhelming you.
We'll even show you how your non-competitive school can benefit. In the Advancing with Digital Feis & Outside Organizations section, we'll talk about the non-competitive philosophy built into our feis system. Dancers advance by their own merit.
We also need you to stick around, because we're slowly working on a fun and challenging grade exam program to motivate recreational dancers, and we value you and your input.
We hope you'll join us! Let's go.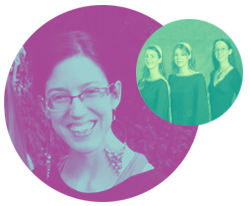 Ashley Middleton
hello@digitalfeis.co